Treasure-trove of fresh seafood in Kesennuma
Kesennuma City is located in the northeastern part of Miyagi Prefecture, and is a hub for transportation and industry. It is known for its fishing ports and beautiful coastal scenery. It is famous for its production of high-end ingredients including shark-fin, found in shark-fin sushi, soup and even ramen. In addition, you can watch fish auctions of swordfish, tuna, shark, bonito, saury, pacific sunfish, salmon, flounder and cod at the Kesennuma Fish Market.
Sanriku, a Seafood Powerhouse
Shark heart

The ultimate delicacy; the heart from the salmon shark. Fresh from the ocean, tasting it as sashimi is an experience that can only be enjoyed in Kesennuma. It is said to be similar in taste to sashimi liver.

Hoya (sea pineapple)

The inspiration for Kesennuma's adorable mascot, Hoya Boya. Kesennuma is well-known as one of Japan's main hoya producers. Try the taste of a fresh hoya while you are here.
One of Japan's leading fish markets with an annual catch of 100,000 tons
Kesennuma Fishing Port / Kesennuma Fish Market
This is one of just 13 ports in Japan designated as category 3 (large). Each day brings a new haul of fresh seasonal catch from the Sanriku fishing grounds, one of top three most productive in the world. Not limited to local fisheries, this port is home to oceanic fishing vessels which bring in some of the country's largest catches of bonito, saury, swordfish, shark and more. The second floor has a 354-meter-long observation deck, among the largest in Japan, giving visitors the perfect vantage point to watch the lively auction take place below in the early morning. Bidding begins at about 7 a.m., and the scene of fish arranged for sale is a remarkable sight.
Address

8-25 Uoichibamae, Kesennuma City

Hours

5:00-12:00, Open daily (Contact in advance for tours)
Kesennuma City, Industries Department, Fisheries Division, Fish Market Supervisor (Kesennuma City Fish Market Management Office)

The Only Shark Museum in Japan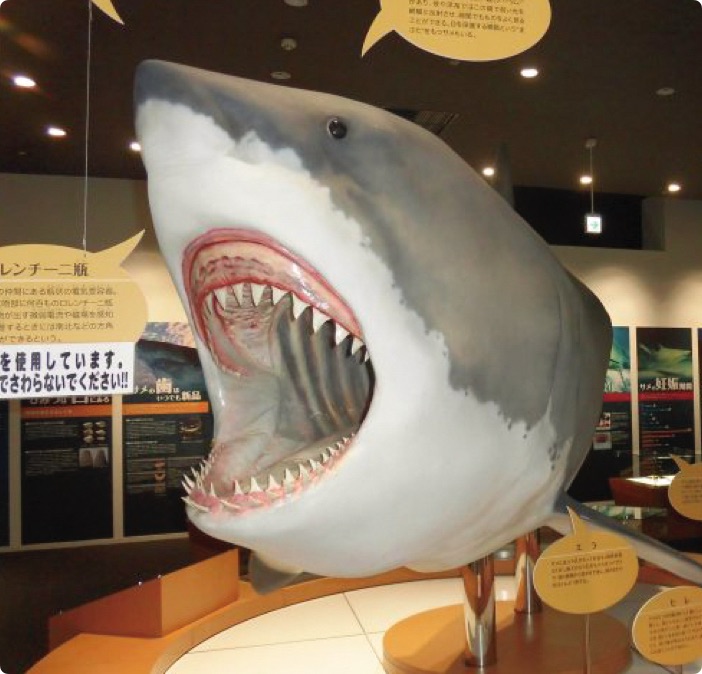 Kesennuma Shark Museum (Kesennuma Umi no Ichi building)
Kesennuma Shark Museum (Kesennuma Umi no Ichi building)
Adjacent to Kesennuma Fish Market is a building called "Kesennuma Umi no Ichi", a good sightseeing spot with all the favorite local products on offer. On the first floor are fish, shellfish and processed seafood from Kesennuma Port as well as restaurants. The second floor has a tourism information center as well as Japan's only shark museum. At the Kesennuma Tourism & Convention Bureau you can get information about what to see in the city, where to eat and where to stay. The Kesennuma Shark Museum has life-sized shark models and exhibits to help you easily understand their unusual biology. Surprises and wonder await at this museum which can only be found in Kesennuma, the capital of shark fishing. In addition, in the "Recovery Theater" of the same museum there is a 15-minute video covering the disaster, recovery and future from the viewpoint of local residents.

Address

7-13 Uoichibamae, Kesennuma City

TEL

0226-24-5755 Kesennuma Sangyo Center, Inc.

Hours

Umi no Ichi 8:00-17:00 / Kesennuma Shark Museum 9:00-17:00 / Open daily